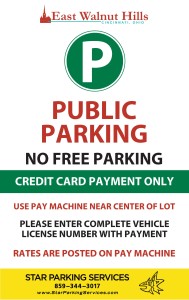 Monthly parking is only permitted in the Madison parking lot and only to monthly permit holders.
Thirty-day parking permits are available for three different time periods:
30-day daily parking from 7 a.m. to 7 p.m. for $25
30-day nightly parking from 7 p.m. to 7 a.m. for $25
30-day both daily and nightly parking (24/7) for $50
Please complete the form (Monthly Parking Application) and mail with your payment by check to the address on the application.  A hanger will be mailed and must be displayed on the vehicle at all times in the parking lot.  The 30 day period begins 3 days after the hanger is mailed.
All persons who paid for overnight parking at any time between 1/1/15 and 7/4/17 will receive a 2/3rd discount off the overnight parking rate.