Start Exploring
Restaurants, Shops, Galleries and More
East Walnut Hills boasts one-of-a-kind art galleries, boutiques, restaurants, and more. Spend time exploring the unique combination of independent shops that has made East Walnut Hills a regional destination! There is ample parking if you're driving here.
---
Business Map
Loading map...



Parking
Lots of neighborhood parking

Access along Madison or Myrtle.

Lots of neighborhood parking

Access from Woodburn Ave.
---
Events
The East Walnut Hills community hosts a variety of events throughout the year that are open to the public, and we'd love for you to join us! The Walk on Woodburn events happen regularly on Friday nights, and offer a chance to visit shops, galleries and eateries in the business district. The Clay Alliance Pottery Fair happens every Spring, and is the best place to find the finest ceramic art that the region's artists have to offer. National Night Out in late Summer at Owl's Nest Park is a great place to meet your neighbors, neighborhood police officers and community leaders. Stay informed of specific dates for these events using the Events Calendar.
In addition to these social events, the East Walnut Hills Council holds monthly public meetings that are the very best way to get involved in the neighborhood and stay informed about the latest neighborhood news.
There are also other events throughout the year hosted by our restaurants and businesses, which you can learn more about on the Business Locator Map.
---
Walk on Woodburn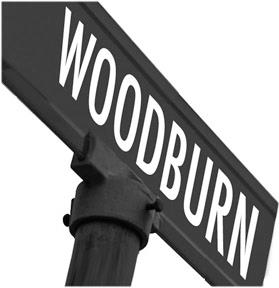 Did you come to the last WoW? A great night was had by all! Walk on Woodburn dates vary, following the new exhibits at Manifest Gallery. Events for all official dates can be found on our Facebook page. Make sure to not the miss the next one!
---
Parking Options
There is plenty of street parking available around the neighborhood but we also have two public parking lots to support our growing business district. The Woodburn and Madison parking lots both offer paid parking 24 hours a day.  The Madison lot also offers 30-day parking passes for daily and overnight parking.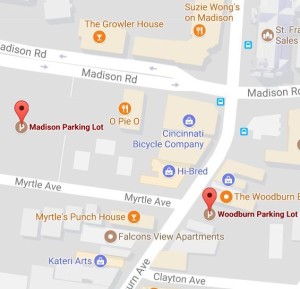 These lots are operated by The East Walnut Hills Assembly, Inc.
---
Business Association
The East Walnut Hills Business Association serves as the representative body for the neighborhood's business district. Its mission is to encourage and support the eclectic and inclusive business environment that makes East Walnut Hills one of Cincinnati's most diverse neighborhoods. The Association promotes the continued growth of the business district, advocates on behalf of its members, and coordinates signature events—such as the Walk On Woodburn series—showcasing the district's value as a center of quality urban life and living.